Puppies

Planning to have a puppy?
If you are planning to have a puppy please read this carefully.
This information is crucial, especially if you are interested in having a Karvin golden retriever puppy.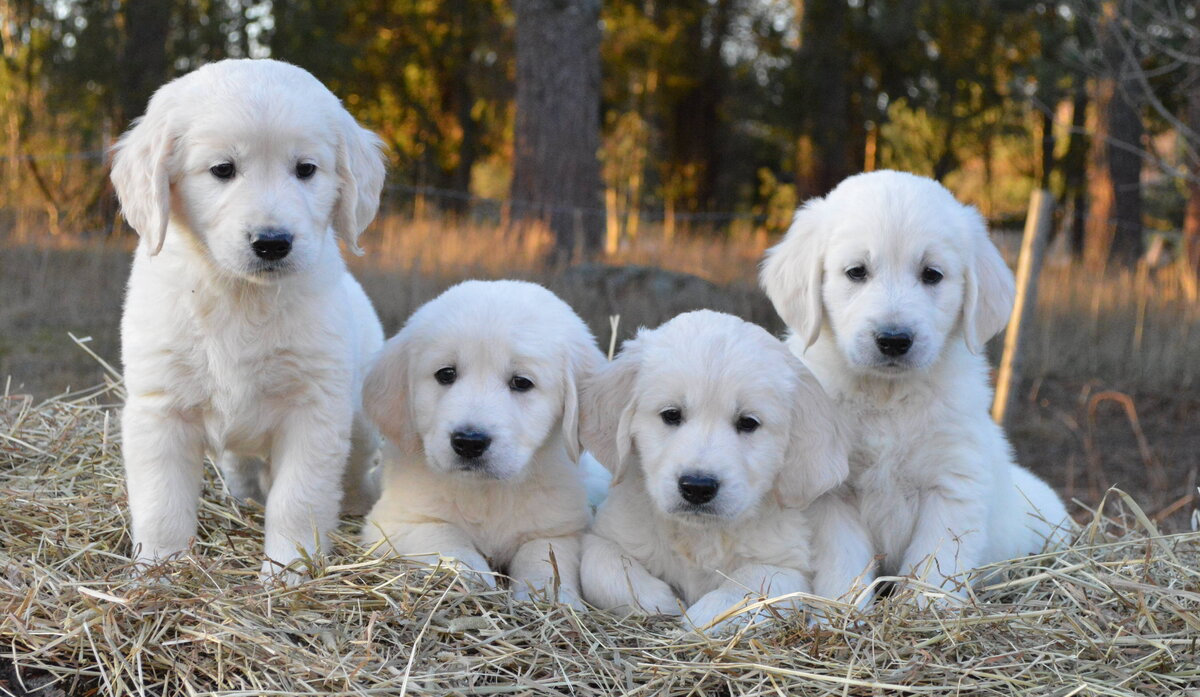 First contact
When you get in touch please contact me via email: heidi.karves@gmail.com
In your message, I would appreciate if you would answer the following questions:
-What is your experience with dogs? Please also tell me about your other family member's experience with dogs.
- How long have you been thinking of having a dog?
- Why did you consider getting a golden retriever?
- Do you have any experience with this breed?
- What are your hopes regarding the dog? Is there a special hobby which interests you? (e.g., water rescue, tracking, retrieving, obedience, rally obedience, dog dancing, mushroom picking, assistance dog, dog shows or something else?)
- What would be the best time to have a puppy? Is there a time when you could NOT have a puppy?
- Would you commit to performing health tests when the dog is 12 months old? (e.g. PEVISA - perinnöllisten vikojen ja sairauksien vastustusohjelma). The health check costs approx. 300 euros and includes hip and elbow x-rays and an official eye check for hereditary diseases. They can only be done at certain veterinary clinics.
- Are you looking for a dog to breed?
- Would you commit to getting insurance for your puppy? This is a requirement to have a Karvin golden retriever puppy and the insurance must go into effect from the day that the puppy is moving to its new home.
- Contact information.
You need understand accept the fact that a dog is a living creature, meaning there may be lots of costs to take care of unexpected health problems or possible incidents.
I do not make any pre-reservations before the puppies are born.
If I have puppies available, I usually meet the families for the first time when the puppies are approximately three weeks old. On this occasion, it will not be possible to choose your puppy. We discuss the terms, and if everything is agreed you can make a reservation for one of the puppies.
I meet every family on one occasion before delivering the puppy.
Sales contract
When we sell a puppy, we always complete a written sales agreement.
The agreement is from the official Finnish Kennel Club.
The agreement and other enclosures are written in Finnish.
There are some additional terms which we have in the enclosure. The terms must be understood and agreed on by the puppy buyer.
The terms are as follows.
I agree to do the PEVISA tests.
If I need to part from the dog, I shall first ask the breeder if she can find a new home for the dog. If this is not possible, then the breeder must be informed of the new dog owner and be provided with their contact information.
The dog will be sold as a pet. Not for breeding purposes. However, pets can attend shows etc. and can be used for many other purposes.
I agree to insure my dog. The insurance must be in effect on the day the puppy is picked up.
If you would like to use the dog for breeding, please get in touch with the breeder in advance.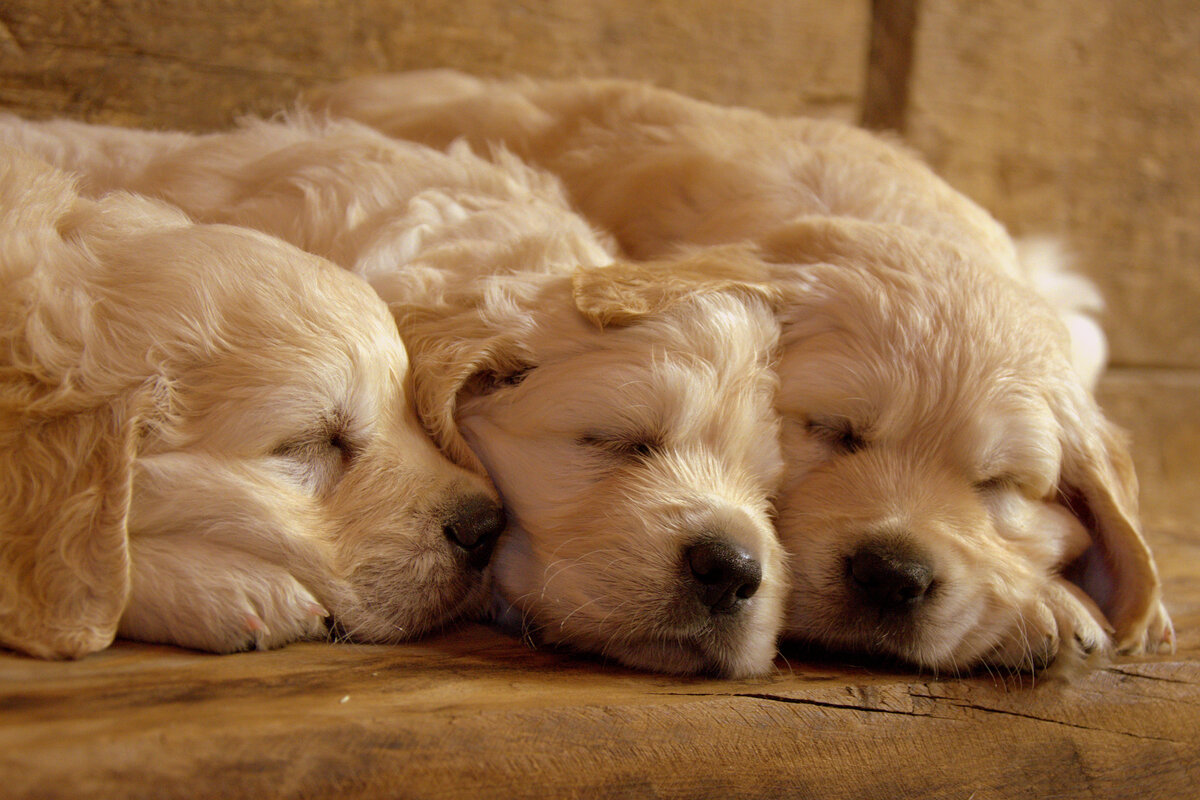 Good to know
When you are buying a puppy you need to know the risks involved. Although the puppies' parents are healthy, this does not guarantee that your dog will live a long and happy life without any health problems.
It is crucial that you feed and exercise your dog according to the given instructions. Your dog shall not be overweight. It must not jump, climb, or run on the stairways as long as it is growing. Your puppy must not play with dogs that are much heavier so as to protect it from injury.
Accidents can happen. You can avoid them by trying to prevent them.
The puppy must be insured. The insurance must be valid from the day you pick up the puppy.
There are many kinds of insurance. Get the one which covers everything. It is hard, if not impossible to compare insurances. I can try to help by telling you which one I would prefer or would recommend.
The first year is definitely hard. The puppy goes through toddler and teenage stages. It won't be mentally fully mature until it is 20 months old. Some mature later than that.
If you get a puppy is like getting a new hobby. Only this hobby you can not leave for a week or two and then continue!
A golden retriever has a lot of will to please and it is a working dog. A retriever. It needs to have something to do. If the dog gets bored you will regret getting a puppy!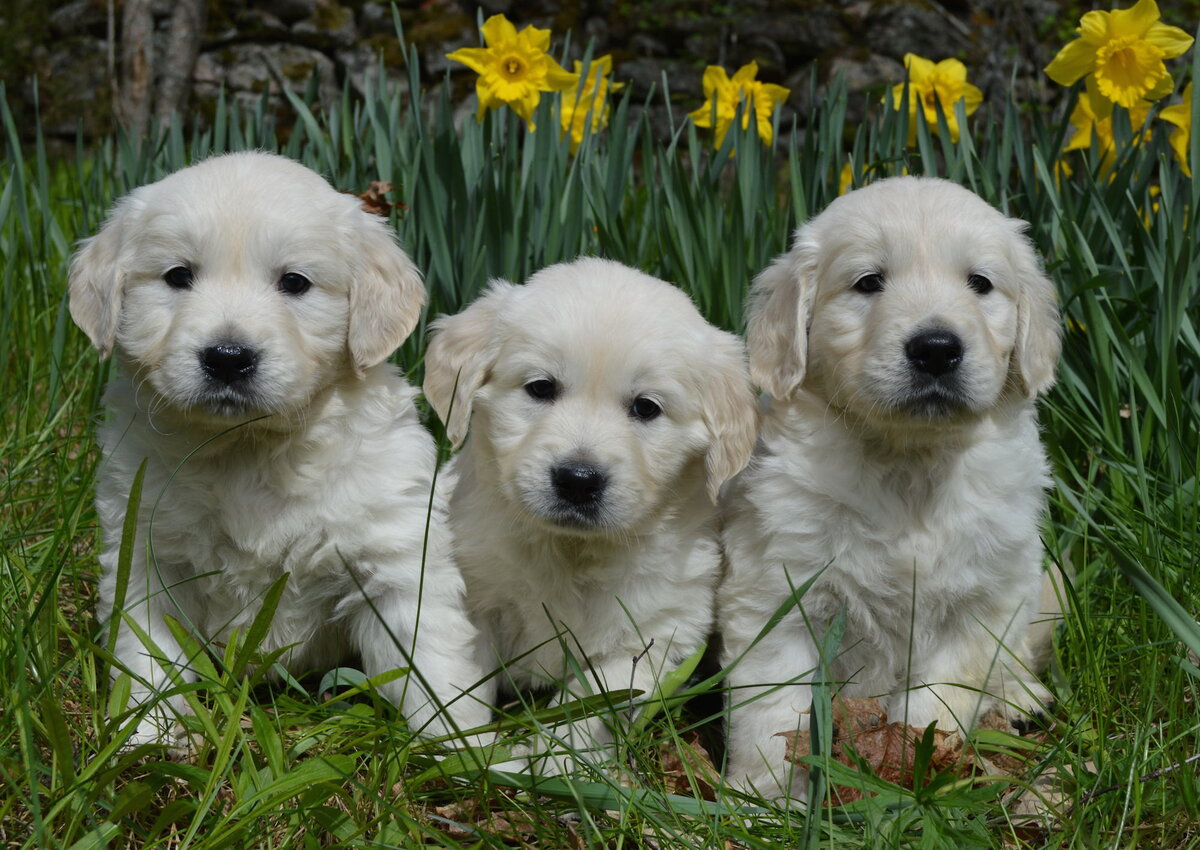 The first meeting
I usually try to meet potential future owners of the puppies when the puppies are 3 weeks old.

The puppy will not be chosen at that time. I choose the puppy for every family by taking into account the family's background regarding dogs and future hopes.

Therefore, it is important that you tell me what you want to do with the dog and which hobbies and hopes you have in the future? There are many hobbies to choose from including water rescue, nose work, dancing, hypo training, tracking, retrieving, hunting, seeking mushrooms and being a "therapy dog", and lots more.

You can get more information on these alternatives and the breed here: www.goldenring.fi
Unfortunately only in finnish.

When we meet it would be nice to hear if you have any questions in mind.


I can send you some information beforehand, though it is only available in Finnish.


As long the COVID situation persists you should be prepared to be outside during this meeting which lasts approximately 2 hours.


I do not meet people via net meetings / video meetings. I need to meet everyone in person.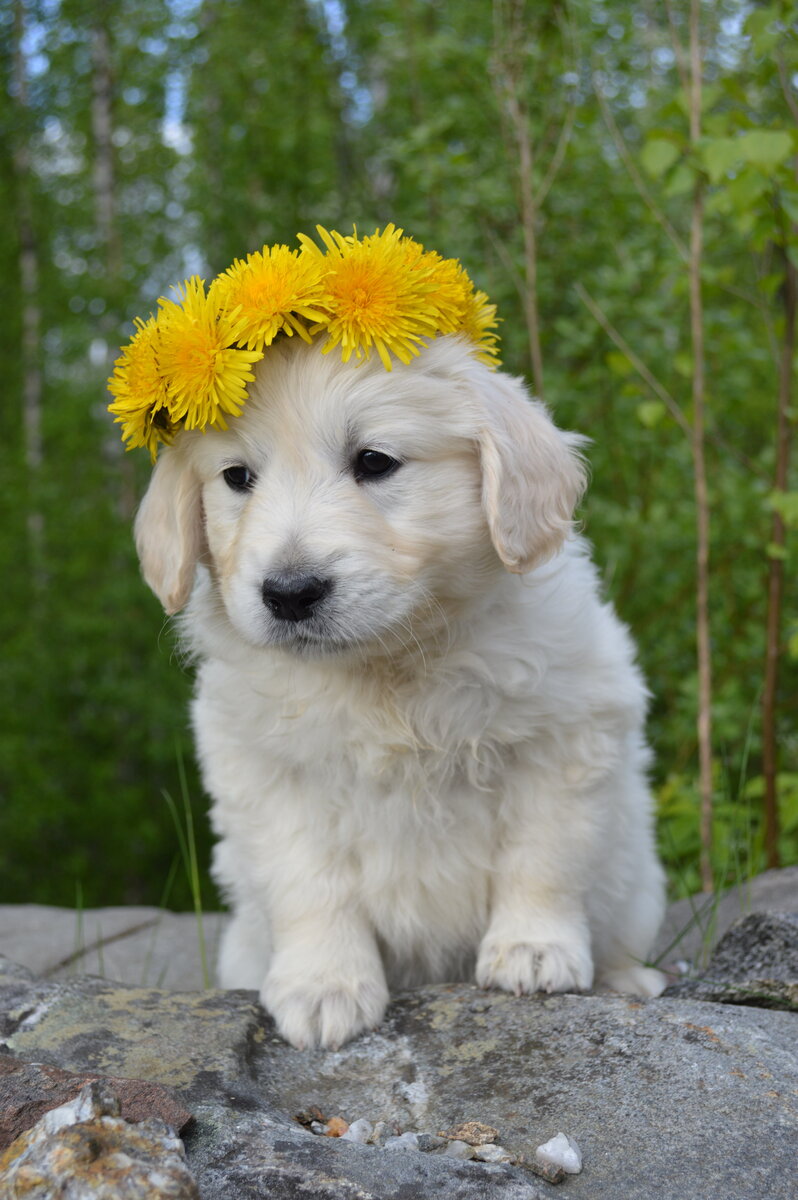 Last but not least
Buying a puppy is a big investment. The first year is always the most expensive.
When you get a puppy from us it will be registered in the Finnish Kennel Club, microchipped, and will have a veterinary health certificate. You will also receive a bag of the food which contains the same brand that the puppy was raised on.
We provide a written leaflet with lots of instructions regarding feeding, worming, exercise, vaccinations, training the puppy etc.
Unfortunately, this is only available in Finnish.

Contact
For additional information of current and future litters please contact Heidi:
Tel. 040 5506507 or heidi.karves@gmail.com
You can follow our litters on Karvin Goldens Facebook Page
We have some frozen semen available from some of our current and older males. Do not hesitate to ask for more information.